Add a header to begin generating the table of contents
Envizi is a comprehensive software platform that helps companies drive sustainability performance management by measuring environmental impact. It is a package of Environment, Social, and Governance (ESG) offerings that help organizations consolidate comprehensive data, streamline reporting, identify efficiency opportunities, and inform business strategy.
Envizi is a one-stop platform for companies to analyze and understand emissions data across lengths and breadths of business operations, helping companies achieve sustainability goals. In other words, it provides data-centric insights to organizations for measuring, managing, and optimizing their environmental sustainability efforts

Sustainability | The Biggest Benefit of Opting For Envizi
Envizi tools can help organizations accomplish sustainability goals in their sustainability journey. It helps businesses manage stakeholders' interests and concerns regarding energy usage, Greenhouse gas emissions, and other sustainability challenges. It allows organizations to maximize sustainability by monitoring, measuring, reporting, and delivering valuable data insights.
Monitor
Envizi Sustainability Performance Management automates the end-to-end collection process and consolidation process of 500 data types in order to gather insights from devices, the existing system of records, electric metres, and gas metres. It offers businesses a comprehensive and modular Software as a Service (SaaS) platform to drive sustainability and effective ESG performance management.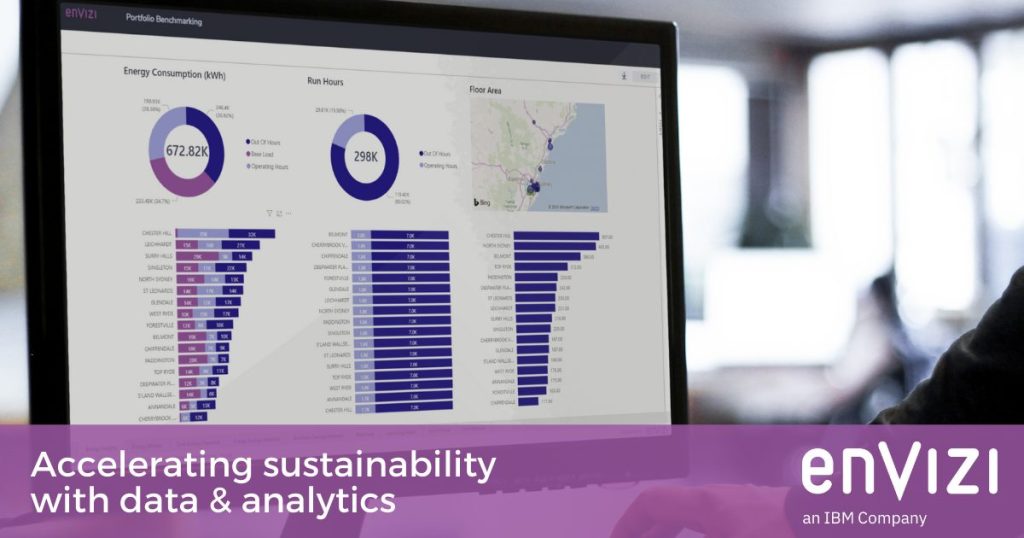 Measure
Envizi also allows businesses to link Environment, Social, and Governance (ESG) initiatives with environmental key performance indicators (KPIs) to measure an organization's sustainability goals. It also allows you to set personalized carbon reduction goals using industry benchmarks.
Report
The software also offers robust configurable tools and dashboard options for businesses to empower display customizations, enabling sustainability managers to monitor enterprise sustainability goals down to the asset.
Data Insights
Envizi Sustainability Performance Management also delivers valuable sustainability analytics that helps organizations identify and address faulty equipment or other asset emergencies that require attention.
These emergencies, when addressed, can contribute to reducing the carbon footprint. Envizi sustainability analytics and data insights also help you compare your organization's expected and actual performances as a whole portfolio as well as at the asset level.
How does Envizi Accelerate Sustainability Performance?
IBM's Envizi is a global leader in providing robust energy and sustainability analytics for accelerating organizations' sustainability performance. It is a comprehensive platform that reports and manages ESG indicators like GHG, energy, and environmental metrics.
In order to streamline an organization's sustainability journey or accelerate sustainability performance, Envizi lays down building blocks for emission management, ESG reporting, and decarbonization.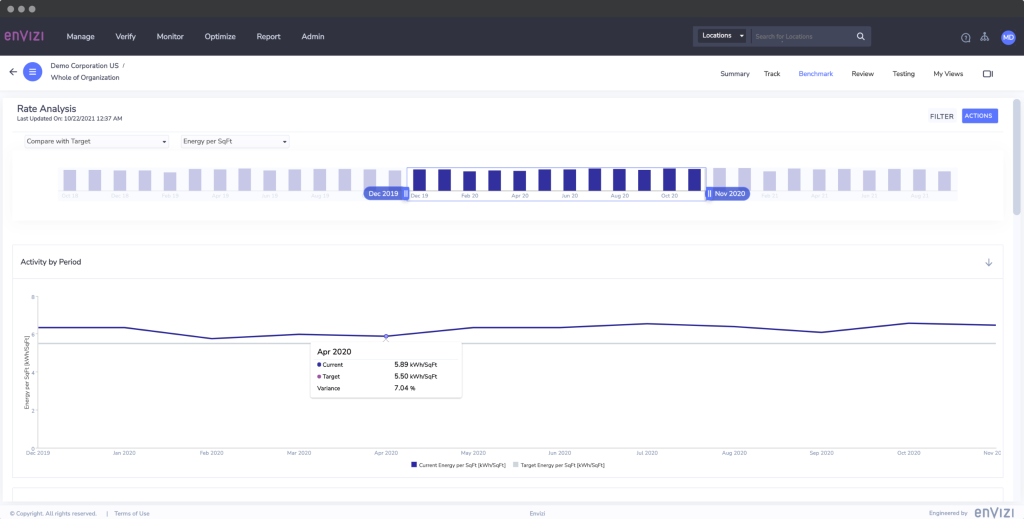 Builds a Data Foundation for Auditable, Financial Grade Sustainability Data
Envizi enables organizations to build a single system of record for developing auditable, financial grade ESG, and sustainability data. The comprehensive data generated helps organizations streamline reporting, identify efficiency opportunities, scale measurable & responsible business practices, and make informed decisions for enhanced sustainability.
Streamlines Reporting and Help Meet Requirements
Reporting is an important aspect for businesses eyeing to achieve sustainability. Timely and effective reporting helps businesses to mitigate risks, save time, yield significant cost savings, and achieve sustainability.
Envizi sustainability performance management enables organizations to promote hassle-free, streamlined reporting by meeting ESG, internal as well as external sustainability reporting requirements. GHG calculations and flexible reporting tools help organizations remain on par with sustainability requirements, ensuring the smooth flow of sustainable processes.
Finds the Most Efficient and Cost-Effective Way to Accelerate Decarbonization
Businesses often rely on a comprehensive software platform to drive data-centric insights in order to fastrack decarbonization in their sustainability journey. Envizi consolidates energy data and develops powerful analytics, sustainable benchmarking, and advanced tools to streamline sustainability goals.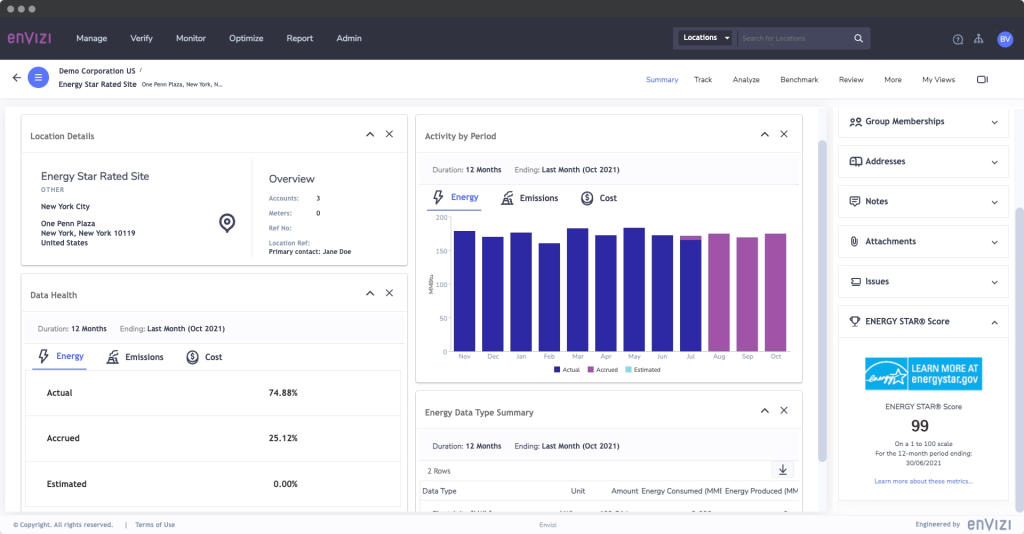 Envizi offers businesses data-backed insights, including Utility Bill Analytics, Interval Meter Analytics, and the Sustainability Program track. These help managers identify the fastest and most cost-effective pathway for achieving low-carbon goals
Why Choose Envizi as Your Comprehensive Software Platform?
IBM's Envizi is one of the world's leading comprehensive software platforms used by organization to drive sustainability performance management. Envizi helps businesses streamline and achieve their sustainability goals.
It is a robust software platform to drive sustainability, identify efficiency opportunities, consolidate comprehensive data, assess sustainability reporting requirements, streamline reporting, and improvise & inform business strategy.
Below mentioned are some of the major grounds why businesses should choose the Envizi platform to drive sustainability.
Seamless Emissions Management
Envizi's Emissions Management is a comprehensive software platform that includes a suite of integrated solutions for accurately calculating Scope 1, 2, and 3 greenhouse gas emissions. The software modules also enable businesses to track, record and measure progress made towards decarbonization, ensuring seamless emissions management.
Envizi enables businesses to access granular GHG emissions accurately, helping businesses to identify target specific areas for initiating emission reduction efforts, saving time and resources. With pin-point analytics, organizations can also develop robust business strategies and track the impact made by emissions reduction projects.
Offers Better Insights through ESG Reporting Frameworks
Envizi by IBM allows businesses to meet ESG reporting commitments and capture data in a single system of record. Capturing and performance tracking of the auditable, finance-grade data are automated by a powerful engine, making the data captured manageable and easily reportable.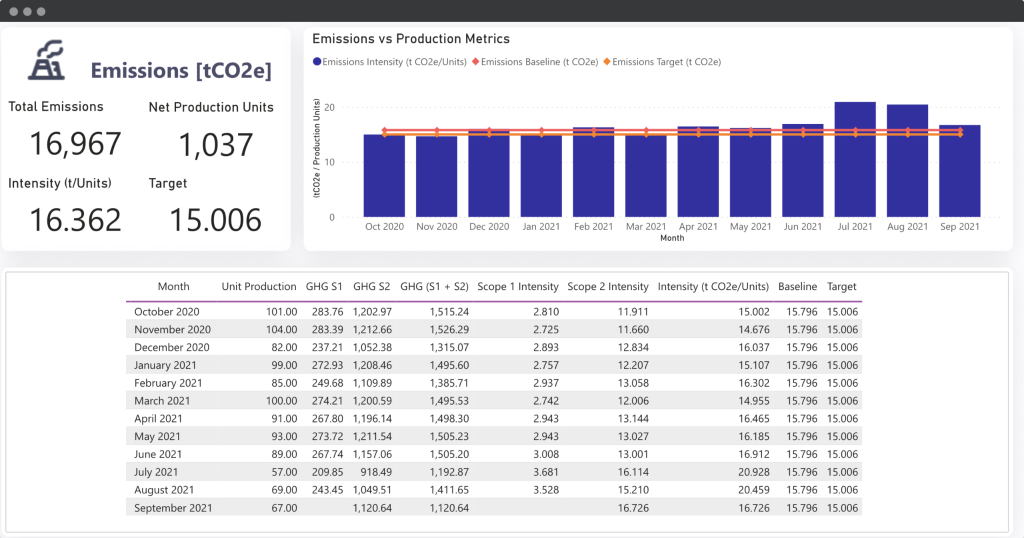 Additionally, with Envizi, businesses can access all the major ESG reporting frameworks, including GRI, SASB, the UN SDGs, and GRESB, so businesses don't have to access external reporting frameworks.
Tracks the Efficacy of the Sustainability Program
Mere meeting sustainability reporting requirements and identifying efficiency opportunities is not enough to achieve long-term sustainability goals.
It is also important to measure the efficacy of the program and implement controllable measures for maximized results. Envizi helps businesses track & manage ESG and sustainability initiatives to ensure program outcomes are on time and on budget.
Flexible Reporting Options
Envizi also provides robust, flexible reporting options to drive sustainability performance management. The reporting options are powered by Microsoft Power BI, which offers intuitive dashboard designs for effectively comparing different projects across the business portfolio and supply chain. It helps business managers prioritize sustainable projects that require immediate attention.
Overall, Envizi helps businesses reduce reporting time and cost, ensure accountability of operations, streamline data capture, simplify audit & assurance, drive organization-wide engagement, and equip business managers with analytics and audit trails to report with confidence.
Request a Consultation Now!
Envizi is an IBM company that is helping the world's leading businesses track, manage, and measure sustainability and ESG initiatives. It offers holistic solutions that can help businesses meet their sustainability reporting requirements, capture & audit comprehensive data, and streamline reporting, which helps businesses navigate their sustainability journey. The ultimate goal of the comprehensive software platform is to drive sustainability performance management.
If you are looking to streamline your business's sustainability, streamline reporting, identify efficiency opportunities, or consolidate data, Envizi by IBM is the #1 platform for all your needs. Incorporate IBM Envizi into your business with the help of Banetti. Banetti can help you onboard and get started with IBM Envizi so that you know all minor and major aspects of the sustainability management platform.
Request Envizi Consultation NOW!